---
SERVICES

Christmas 2018
LAST QUILT TAKEN IN
Saturday December 8, 2018


Quilting services are available to everyone!!
*When figuring out your backing I need an additional 6 inches added to the width and length of your top.
*An additional fee will be added if your back needs to be centered.
******************


1 cent for stipple only
**1.5 cents for my free motion designs
*2 cents for most pantographs

I will piece your backing for $10 a seam!
All quilting, binding and quilts made for you are CASH or CHECK ONLY!


**To estimate your charge measure your quilt top, then, length x width x .01, .015 or .02.
Minimum charge $25
Binding service is available
*************


Ladies bring,
or send(shipping extra), in your King quilt tops!!!
**************


Wall hangings & Runners
minimum charge
$25
for stipple only!!!
Placemats
$10.00 per item
**********


Thread and batting are extra. If you have your own batting bring it in!!
Please call for any questions you may have.
815-338-9353**Ink Jet printing for your picture projects is now available!! ** I have individual sheets available to purchase also!!
********
Quilts made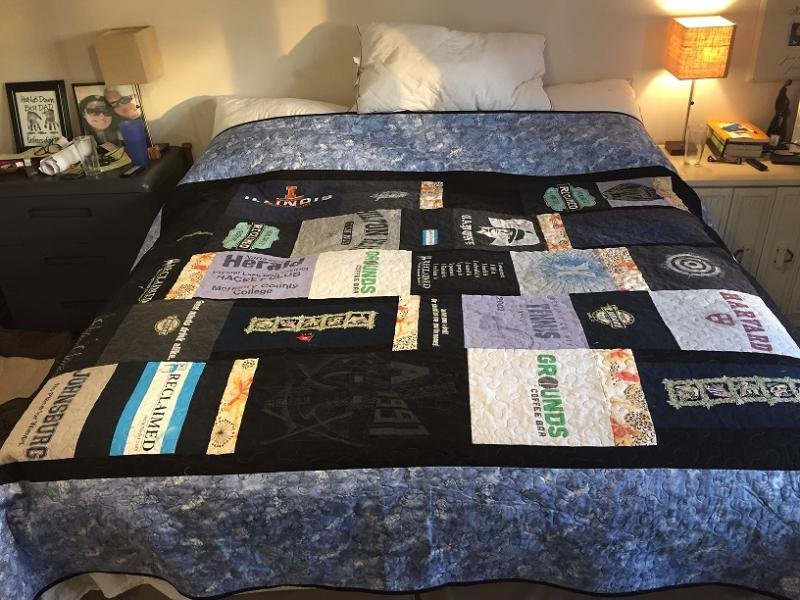 T-Shirt Quilts
Bring in your t-shirts and turn them into a cherished work of art!*******************Have a project to finish up? I can do that for you OR you can come in for a session on how to finish. Any session will be $25 for up to 2 hours.Please give me a call or stop in!815-338-9353
Embroidery Services
Let me know what you need!